Best known for its wartime use by the Luftwaffe, the remarkable Fieseler Fi.156 Storch became synonymous with air operations over Indochina in the years following World War 2. Initially produced at the Fieseler plant in Kassel, in April 1942 the Storch also entered production for the Luftwaffe in the Morane-Saulnier works in the Paris suburbs and 141 aircraft had been delivered at the end of the year. With the Reich's air industry mobilized to meet the growing demand for home defence fighters, the Fieseler plant was switched to making the Focke-Wulf FW 190 and Storch production was entirely transferred to France and Czechoslovakia. In order to rebuild both its air force and its aircraft industry in the immediate post-war period, the French government decided to keep a number of German designs in production and 925 Fi.156s were ordered under their new designation, the Morane-Saulnier MS.500 Criquet, while around 65 Störche captured as war booty were turned over to the Armée de l'Air. Used for observation, liaison and casualty evacuation, the Criquet soon became a common sight over Indochina.
Available model
In 1/144 scale, the choice is limited to the pre-assembled Fieseler Fi.156

Storch

released by Takara as part of their World Tank Museum series of

gashapon

collectible toys. While this is not quite a

Criquet

, it is a good base for a conversion. Indeed, early production Criquets were no different from the wartime Fi.156 C-7s or D-1s, some were in fact ex-Lutfwaffe planes with new markings.

Model description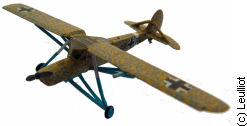 The model comes entirely pre-assembled and pre-painted in one of four schemes: overall dark green, overall sand yellow, sand/green camouflage and overall white winter scheme.

Surface detail is basic but quite acceptable although the numerous struts are simplified, rather thick and out of scale. The fabric wings' ribbing is peculiarly rendered: it is recessed below the wing's upper surface.

The most obvious error is apparent when the model's profile is examined because the fuselage is rather too deep beneath the rear cockpit and, as a result, the model looks quite wrong when viewed from the side.


| | | |
| --- | --- | --- |
| Dimensions: | Wingspan | Length |
| Plane (m) | 14.25 | 9.9 |
| Model (cm) | 9.6 | 6.55 |
| Scale | 1/148 | 1/151 |
Required modification.
Although the model can simply be repainted as a

Criquet

, some simple modifications can significantly enhance it.

First of all, the wings should have the recessed area mentioned above filled with putty and sanded flush. This not only gets rid of a poor rendition of ribbing, it is also more accurate for the aluminium-skinned wings favoured in Indochina because of the climate.

The fuselage profile also needs to be corrected by filing the bottom to make it shallower underneath the observer's position. Next are the wing struts which are carefully prised off, thinned down and reattached after the painting stage (thus giving easier access to the canopy). Alternatively, the original wing struts can be binned and replacements cut from thin plasticard substituted. This has the additional advantage of allowing a more correct placement of the struts, the original ones being attached too low on the fuselage. Secondary struts can be added from brass wire though this can really be done only if you replace the original wing struts. As for the huge tailplane struts, they are best cut and scaped off before being replaced by thin plasticard.

Replacing the original pitot tube with a length of angled brass wire glued under the port wing is a simple but effective alteration. Finally, as an option, the tailplane elevators can be squared off as seen on some late-production machines.

Colours and markings
While the

Criquets

wore a simple overall dark olive green livery, there is some doubt as to the actual shade.

A dark olive green roughly similar to FS 34091 is mentioned in

Fi 156 Storch Vol.1

while French modelling magazines mention a paint close to FS 34079. Given that the Puteaux plant originally produced these aircraft for the Lutfwaffe, it is probably safe to assume it was in fact some local equivalent of RLM 71 Dunkelgrün and subject to variations. While some sources mention Olive Drab (FS 34087), it is doubtful that this shade was used on

Criquets

in Indochina although it certainly was worn some time later in Algeria.

Markings were simple and were limited to regulation roundels in the six usual locations, a fuselage code, usually one or two letters, and the regulation tricolour rudder. A very large proportion of

Criquets

wore a factory-applied white cross of Lorraine on the tail. Aircraft used as FACs sometimes wore a white square on each upper wing to make them easier to spot fom the air though this was far from universal.



This Navy Criquet was assigned as a hack aircraft to the Tan Son Nhut mobile base.





Criquets

of the fledging Vietnamese, Laotian and Cambodian air forces followed a similar system with national flags on the rudder. VNAF aircraft wore a single letter in the GAOC or a number in the CIAVN as a fuselage code, while Lao and Khmer

Criquets

were too few to warrant fuselage codes, the tail serial number being sufficient.


Criquet

of the VNAF's

1er Groupe Aérien d'Observation et de Combat

(1953)

Criquet

of the Laotian Air Force's

1re Escadrille d'Observation

(1954)
---
Click on the thumbnails below for full size images

This

Criquet

is one of several with a modified lower fuselage possibly intende to carry pgotographic equipment.

One of three "sharkmouth" aircraft known in Indochina (the others being a Spitfire and a Mosquito), this is the aircraft profiled at the top of this page. Note the long whip antenna.

A

Criquet

of ELA 52 takes off from aircraft carrier Dixmude which was used to ferry aircraft for the air force as part of its 1947 deployment to Indochina.

A good frontal study of a

Criquet

from 22e GAOA in 1951.
Another photo of a 22e GAOA

Criquet

in Tan Son Nhut air base showing the side markings.
Briefing during operation Atlas which saw the first combat missions flown by the VNAF (April 1953).


Casevac

Criquet

(equivalent to a Fi.156 D-1) evacuating Vietnamese wounded in Hung Yen province (January 1954).
An interesting in-flight photo showing the peculiar position of the landing with the oleos fully extended.
A trio of Criquets flying generals de Lattre de Tassigny, Salan and Baillif to Vinh Yen (January 1951).

Sources
Dariusz KARNAS & Pawel PRZYMUSIALA,

Fi 156 Storch Vol.1

(Militaria n.68), Wydawnictwo, Warsaw, 1998, ISBN 83-7219-019-4
Dariusz KARNAS & Pawel PRZYMUSIALA,

Fi 156 Storch Vol.2

(Militaria n.100), Wydawnictwo, Warsaw, 1999, ISBN 83-7219-059-3
Heinz NOWARRA,

Fieseler 156 "Storch"

, PPV GmbH, Fiedberg, 1979, ISBN 3-7909-0120-2
Philippe RICCO & Jean-Claude SOUMILLE,

Les Avions Allemands aux Couleurs Francaises, Tome 1

, Airdoc, Rochemaure, 1997, no ISBN
Jean-Claude SOUMILLE,

L'Aviation Francaise en Indochine 1946-1954, Tome 2

, Airdoc, Rochemaure, 1997, no ISBN
Airliner.net's excellent photo archives have several pages of photos covering the MS Criquet and Fieseler Storch

Top - Home