The use of helicopters in Indochina in some ways paralleled the conflict in Korea. Nicknamed "ventilators" by the troops they supported, the Hiller 360s and H-23 Ravens, Westland-Sikorsky WS-51s and Sikorsky H-19s were used mainly for casualty evacuation and occasionally to rescue escaped prisoners or aircrews shot down over Viet Minh territory. None had a combat role although, by the final year, there were plans to enlarge the helicopter fleet for such use.
The first two helicopters, Hiller 360 UH-12As bought by the Medical Services, arrived in April 1950 and were assigned to E.L.A. 52 (Air Liaison Flight 52) to supplement the Criquets (French-built Fieseler Storch light planes) used until then. They were used exclusively for CASEVAC missions in southern Annam, Cochinchina and Cambodia. On 16 May, the first evacuation mission was flown by Lieutenant Santini, who had became the first French military helicopter pilot in November 1949. Although he boasted only 28 flying hours in helicopters, he flew two casualties of the 1er BCCP to Saigon in a two-hour flight, one hour of which was in darkness. He was the only helicopter pilot in the whole of Indochina until he was joined by Sergeant Fumat in August 1950.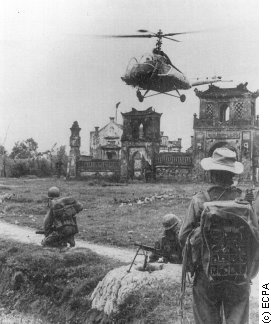 Among the first handful of pilots, a woman, Captain Valérie André would rapidly become famous. An Army surgeon and qualified parachutist and pilot who had arrived in Indochina in June 1949, she evacuated 165 in 129 helicopter missions flown in 1952-1953 (out of a total of 496 fixed-wing and helicopter missions during her tours) and would later command a casualty evacuation flight. One typical mission occurred on 11 December 1951 when casualties were in urgent need of evacuation from Tu Vu on the Black River. The only available helicopter, stationed near Saigon, was dismantled, flown to Hanoi by a Bristol Freighter and reassembled. Captain André then flew into Tu Vu despite heavy mist and anti-aircraft fire. There, she triaged the casualties, operated on the most pressing cases and then flew the urgent wounded back to Hanoi, two at a time. In 1976, she became the first woman in the French Army to rise to the rank of general. The photo to the right shows her Hiller UH-12A about to land to evacuate casualties from Operation "Crachin" in February 1952.
In late 1951, both helicopters were transferred to E.L.A. 53 in Gia Lam, near Hanoi, while seven of the more powerful H-23As arrived, starting in February 1952. This finally allowed the whole of Indochina to be covered and the helicopter fleet was reorganised into three mixed airplane-helicopter flights : E.L.A. 52 in Tan Son Nhut, E.L.A. 53 in Gia Lam and E.L.A. 54 in Tourane (Da Nang).
In March 1952, six H-23Bs with uprated engines were added to the helicopter fleet. Between June and December 1952, eleven WS-51s were bought but while they were appreciated for their ability to lift three casualties simultaneously, they proved unsuited to local conditions and were replaced from October 1953 by the much more powerful Sikorsky H-19.
The arrival of eighteen of these helicopters, nicknamed "happy elephants", was a major improvement in capability since the H-19 could carry six wounded and a medical attendant over more than 500 kilometres. At about the same time, the helicopters were transferred from the Armée de l'Air to the Army which formed the first all-helicopter unit in December 1953 : the Groupement des Formations d'Hélicoptères en Indochine (G.F.H.I. - Indochina Helicopter Units Group), itself made up of the 1re and 2e Compagnie d'Hélicoptères d'Evacuations Sanitaires (C.H.E.S. - Medical Evacuation Helicopter Company).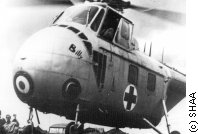 In 1954 alone, helicopters evacuated 6,499 CEFEO wounded from the various battlefields, some flights taking place in darkness. In the early days of Dien Bien Phu, however, three H-19s were destroyed on the ground by Viet Minh 105mm artillery and one was shot down by AA fire despite the red crosses painted boldly on their fuselage sides (1). As a result, all helicopter flights to the besieged base were suspended in late March.
Although the 44 helicopters (2) played no part in actual combat, eleven were lost to enemy action. Despite the technical limits of the early models, the value of these "ventilators" was quickly appreciated. The small number of helicopters evacuated "only" 10,820 CEFEO casualties in 1951-1954 (roughly 1/7th of the total number of evacuations) but it is doubtful that these men could have been saved by any other means.
The potential use of helicopters in combat was not overlooked however and the reinforcements planned for the 1954-1955 campaign included 50 H-19s. On 22 November 1954, the Army formed its own light aviation branch, the Aviation Légère de l'Armée de Terre (ALAT) to operate its own aircraft and helicopters. The veterans of Indochina would form the nucleus of a greatly expanded helicopter force which, over the next eight years, would make the Algerian War the first helicopter war.
---
Appendix : Helicopters models used in Indochina
Hiller UH-12A (360) / H-23B Raven
Carrying capacity : one pilot and two litter cases
Engine : (UH-12A) one 170-hp Franklin 6V4-B33 flat six ; (H-23A) one 178-hp Franklin O-335-4 flat six ; (H-23B) one 200-hp Franklin O-335-6 flat six
Dimensions : length of fuselage 8.46 m ; height 2.98 m ; diameter of two-blade rotor 10.67 m
Weights (H-23B) : 730 kg (empty), 1025 kg (maximum loaded)
Speed (H-23B) : 135 km/h (maximum), 110 km/h (cruising)
Range (H-23B) : 330 km (without reserves) ; max flight time 2 h 30 mn
Number in service : two UH-12As, seven H-23As, six H-23Bs

Westland-Sikorsky WS-51 Dragonfly
Carrying capacity : two pilots and two litter cases
Engine : one 500-hp Alvis Leonides 521/1 nine cylinder radial
Dimensions : length of fuselage 12.47 m ; height 3.94 m ; diameter of three-blade rotor 14.6 m
Weights : 1724 kg (typical), 2495 kg (maximum loaded)
Speed : 166 km/h (maximum), 132 km/h (cruising)
Range : 482 km (typical)
Number in service : eleven

Carrying capacity : two pilots, six litter cases
Engine : one 600-hp Pratt & Whitney R-1340-40 Wasp nine cylinder radial
Dimensions : length of fuselage 12.71 m ; width 3.35 m ; height 4.06 m ; diameter of three-blade rotor 16.15 m
Weights : 2245 kg (empty), 3300 kg (maximum loaded)
Speed : 175 km/h (maximum), 135 km/h (cruising)
Range : 563 km (without reserves) ; max flight time 4 h 30 mn
Number in service : eighteen (not all operational)

---

Note 1 : In all fairness, it should be mentioned that, in addition to their more publicised role, these helicopters were also used to carry a few replacement officers into the base and evacuate perfectly healthy fighter pilots which had been stranded by the Viet Minh's attack and were sorely needed by their unit. [ back ]

Note 2 : In addition to these, four helicopters (two Sikorsky S-51s and two Piasecky HUP-2) were operated by the the Aéronavale for carrier-based rescue. [ back ]

---
Sources :
Helicopters in Combat - The First Fifty Years, John Everett-Heath, London : Arms and Armour Press, 1992 (ISBN 185409-066-8)
L'Aviation Française en Indochine, 1946-1954, Jean-Claude Soumille, Association Air Doc, 1996 (no ISBN)
La guerre d'Indochine, Philippe Héduy, Paris : Société de Production Litéraire, 1981 (no ISBN)
Top
- Home