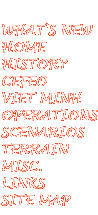 Every site's got to have them...

Oddly enough this is probably the page that takes the least amount of time to put together because, quite frankly, there isn't all that much out there...
So, here are the links we found. If you know of more, please do tell us... All are in English unless indicated otherwise.
Wargaming
Contre les Viets Indochina Crossfire variant by Peter Hunt of the Hong Kong Wargamers Association.
Personal accounts
The Ground War
Units
The Air War
The River War
General History of the War
Topo Maps :
Discussion Lists :
FEW-Wargaming was founded to provide an E-group to support FEW wargaming and other conflicts in the Far East (Iran, Vietnam, China, Korea, India, Pakistan, Japan, Taiwan, etc.).
The Vietgaming Mailing List covers miniature gaming of the various Vietnam wars.
Related pages : wargaming the Second Indochina War
Top - Home