Fiction - Non-Fiction
Note : Some of these films are not very easy to find outside France but all of Schoendoerffer's are available from Amazon.fr (no, we don't get any money if you click on the link).
Fiction
The Quiet American

2003, colour, 118mn
DIRECTOR : Phillip Noyce
SCENARIO : Christopher Hampton and Robert Schenkkan (based on Graham Greene's novel)
PHOTOGRAPHY : Christopher Doyle
MUSIC : Craig Armstrong
STARRING : Michael Caine, Brendan Fraser, Rade Serbedzija, Do Hai Yen, Do Thi Hai Yen

The second screen adaptation of Graham Greene's novel (after Joseph Mankiewicz's 1958 version, see below), this film came as a very pleasant surprise. Not only is it very faithful to the original novel but it is supported by good acting and great photography (yes, you'll notice my fixation with this bit as you read this page). As an added bonus, close attention was paid to historical detail and you get to see a French Dinassaut in action and a Viet Minh night attack on a PK watchtower. Definitely recommended.


Diên Biên Phú
1991, colour, 140mn
DIRECTOR : Pierre Schoendoerffer
SCENARIO : Pierre Schoendoerffer
PHOTOGRAPHY : Bernard Lutic
MUSIC : Georges Delerue
STARRING : Donald Pleasance, Ludmila Mikael, Patrick Catalifo, Jean-François Balmer, François Négrier, Maxime Leroux, Raoul Billerey

Schoendoerffer's second film to be entirely devoted to the Indochina War, Diên Biên Phú was the most expensive French war film ever made, something which shows in the attention to historical detail. Sadly, the director seems to have been somewhat overwhelmed by this project. The fact that, unlike most of his other films, it is not based on a previous book might provide some explanation.

The film goes back and forth between Diên Biên Phú and Hanoi but Schoendoerffer has some trouble deciding which story he wants to tell : that of the men fighting a lost battle in the hills or that of the relations between France and Vietnam through the symbol of a French violinist's concert tour. Likewise he seems to hesitate between telling the story of the battle and his story in the battle something which is quite apparent in his voice over narrative which begins with very matter-of-fact comments and ends with autobiographic recollections illustrated on screen by his son who plays his own role.

Overall, the film's lack of purpose reduces it to a collection of vignettes, either anecdotes from the battle or somewhat stereotypical scenes between the Hanoi characters. Schoendoerffer, who had demonstrated his mastery of subplots with Le Crabe Tambour, simply appears to have lost control of his film and most of the actors (some of whom are not professionals) obviously suffer from a lack of direction. While it is very far from the quality of his other films, Diên Biên Phú nevertheless does have its (few) flashes of brilliance although these are mainly confined to the photography.

The film was shot in northern Vietnam where most of the Diên Biên Phú battlefield was rebuilt in a similar valley and with the support of both the Vietnamese and French armies.

Le Crabe Tambour
1977, colour, 120mn
DIRECTOR : Pierre Schoendoerffer
SCENARIO : Jean-François Chauvel & Pierre Schoendoerffer (from his own novel)
PHOTOGRAPHY : Raoul Coutard
MUSIC : Philippe Sarde
STARRING : Jean Rochefort, Jacques Perrin, Claude Rich, Jacques Dufilho, Odile Versois, Aurore Clément

While this film is only marginally about the Indochina War, its central theme is the career of a naval officer, nicknamed "Le Crabe-Tambour" (a character inspired by LV Pierre Guillaume), in the last years of the crumbling French colonial Empire.

Based on a series of flashbacks, subplots and asides, the film is built around the recollections of those who knew him from Indochina to Algeria and the seas off Newfoundland. While the link to Indochina may be rather tenuous, this film is still well worth an evening. Incidentally, the character of the Crabe-Tambour (played by Jacques Perrin) is the brother of La 317ème section's Willsdorff. You can download Philippe Raggi's PDF transcript of the film (in French) here.

Le Facteur s'en va en Guerre
1966, colour, 100mn
DIRECTOR : Claude Bernard-Aubert
SCENARIO : Claude Bernard-Aubert
PHOTOGRAPHY : Marcel Grignon
MUSIC : Georges Garvarentz
STARRING : Charles Aznavour, Daniel Ceccaldi, Franco Fabrizi, Jess Hahn, Michel Galabru, Doudou Babet, Helmut Schneider, Sabine Azéma, Jacques Richard

A Parisian postman joins the army and finds himself fighting in Indochina, becomes disillusioned with the war, is captured by the Vietminh, and returns to Paris at the end of the war with the Cambodian woman he loves.


Lost Command
1966, colour
DIRECTOR : Mark Robson
SCENARIO : Jean Lartéguy (from his novel Les Centurions) & Nelson Gidding
PHOTOGRAPHY : Robert Surtees
MUSIC : Franz Waxman
STARRING : Anthony Quinn, Alain Delon, Maurice Ronet, Claudia Cardinale, George Ségal, Michèle Morgan, Jean Servais, Grégoire Aslan, Jacques Marin
ALSO RELEASED AS : Les Centurions

This "all star" film adaptation of Jean Lartéguy's book is only mentioned here because its first few minutes portray the surrender of Diên Biên Phú. The rest of the film is set during the Algerian War and is not very good. Most definitely not worth buying IMHO.


La 317ème section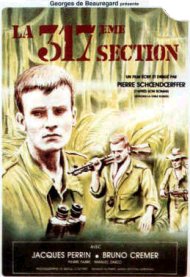 1965, black & white, 100mn
DIRECTOR : Pierre Schoendoerffer
SCENARIO : Pierre Schoendoerffer (from his own novel)
PHOTOGRAPHY : Raoul Coutard
STARRING : Jacques Perrin, Bruno Cremer, Pierre Fabre, Manuel Zarzo, Boramy Tioulong
ALSO RELEASED AS : The 317th Platoon, 317th Platoon, 317th Section

Based on the director's book of the same name, this film is a brilliant evocation of the desperate retreat of an isolated outpost's garrison through the jungle.

Although the book is set in the highlands of Laos during the Viet Minh's 1953 Spring offensive against Luang Prabang, the film is set in northern Cambodia during the last days of the battle of Diên Biên Phú. Focussing on two characters : Torrens (Jacques Perrin), a young officer fresh out of Saint-Cyr (the French equivalent of Sandhurst or West Point) and Willsdorff (Bruno Cremer), a veteran NCO from Alsace who was conscripted into the Wehrmacht and fought on the Eastern Front during World War 2, the film tells the story of the 317th Local Auxiliary Platoon, four Frenchmen and forty-one Cambodians, as they trudge through the mountains and thick jungles, beset by disease, heavy rain and Viet Minh ambushes.

La 317ème section was filmed on location in Cambodia and features some brilliant photography by Raoul Coutard, one of the nouvelle vague's stalwarts. This film definitely rates as one of the better war films and quite simply the best about the Indochina War. You can download Philippe Raggi's PDF transcript of the film (in French) here.

Fort du fou
1963, black & white, 90mn
DIRECTOR : Léo Joannon
STARRING : Alain Saury, Jacques Harden, Jean Rochefort
ALSO RELEASED AS : Outpost in Indochina

A group of Catholic Vietnamese are besieged by the Vietminh in a fort. A French Captain is tasked to bring them out to safety. The situations grows tense but things evolve for the better.

Comments on this film welcome.
Five Gates to Hell
1959, black & white, 98mn
DIRECTOR : James Clavell
SCENARIO : James Clavell
PHOTOGRAPHY : Sam Leavitt
MUSIC : Paul Dunlap
STARRING : Benson Fong, Ken Scott, Nancy Kulp, Neville Brand, Shirley Knight, Patricia Owens, Dolores Michaels

Set in Indochina in 1950, this film apparrently tells of the fate of two Red Cross doctors and seven nurses captured by a guerrilla band

Comments on this film welcome.

The Quiet American
1958, black & white, 120mn
DIRECTOR : Joseph L. Mankiewicz
SCENARIO : Joseph L. Mankiewicz (based on Graham Greene's novel)
PHOTOGRAPHY :
MUSIC :
STARRING : Audie Murphy, Michael Redgrave, Claude Dauphin, Giorgia Moll,
Bruce Cabot, Fred Sadoff, Kerima, Richard Loo, Peter Trent, Georges Bréhat

This film is an adaptation of Graham Greene's classic novel about the failure of American foreign policy in Indochina. The novel is excellent but I haven't seen the film so can't really comment.

China Gate
1957, black & white, 140mn
DIRECTOR : Samuel Fuller
PHOTOGRAPHY : Joseph Biroc
MUSIC : Max Steiner & Victor Young
STARRING : Gene Barry, Angie Dickinson, Nat King Cole, Paul Dubov, Lee Van Cleef, George Givot, Marcel Dalio

Towards the end of the Indochina War, an international group of mercenaries (American Korean War veterans, an ex-French gendarme named Pigalle, a Greek expatriate) go on a perilous mission near the Chinese border to destroy a Vietminh arms depot with the help of a beautiful Eurasian smuggler named Lucky Legs...

Comments on this film welcome.

Patrouille de Choc
1957, black & white, 90mn
DIRECTOR : Claude Bernard-Aubert
SCENARIO : Claude Bernard-Aubert
STARRING : Alain Bouvette, Jean-Claude Michel, Jean Pontoizeau
ALSO RELEASED AS : Patrouille sans espoir

Comments on this film welcome.

Le Rendez-Vous Des Quais
1955, black & white, 75mn
DIRECTOR : Paul Carpita
SCENARIO : Paul Carpita
PHOTOGRAPHY : Paul Carpita
MUSIC : Jean Wiener
STARRING : André Maufray, Jeanine Moretti, Roger Manunta, Rose Dominiquetti, Albert Manach, Georges Pasquini, Florent Muñoz, Annie Valde, Yolande Marchand, Andrée Biancheri, Louisette Cavolino, Albert Carminiani

Banned for 33 years with all copies believed destroyed until 1988, this film, based on actual events, is set in 1950 Marseille and portrays the efforts of striking dockers to prevent the shipment of war material to Indochina.

Jump Into Hell
1955, black & white, 100mn
DIRECTOR : David Butler
SCENARIO : Irving Wallace
PHOTOGRAPHY : Peverell Marley
MUSIC : David Buttolph
STARRING : Jacques Sernas, Peter Van Eyck, Kurt Kasznar, Louis Mercier, Maurice Marsac, Alberto Morin, Arnold Moss

The first American films dealing with the Indochina War (as opposed to simply set in Indochina), this Cold War artefact hasn't aged too well. In a nutshell, it tells the story of four (rather implausible) French army officers who jump into Diên Biên Phú, their (heroic) adventures and their (inevitable) doom .

The plot is extremely thin and appears to have been written on the back of a postcard : gallant officer recaptures a strongpoint, gallant officer saves the general from a Red raid, gallant officer sacrifices his life to bring back water for the wounded, and so on ad nauseam... The film's credibility isn't helped by the fact that it was shot in some very bare Californian valley with the leftovers from some Iwo Jima set. Only when newsreel stock footage is inserted does it look like Indochina.

The most interesting aspect of the film is the way its political message is delivered. In order to allow American audiences to identify more closely with the French troops' doomed stand against Communist forces, Wallace makes constant use of a none-too-subtle Alamo metaphor. The airhead is constantly refered to as "the Fort" and just in case someone misses it, a hilarious dialogue with an American transport aircraft crewman reveals that he is a Texan and always wondered as a kid how Travis and Crockett would have fared against the Mexicans if they had been suplied and reinforced by airdrops ("And now's my chance to help out the Alamo"...). For those who still haven't caught on to the fact that France and the US are fighting the same war, the Legion's stand to the last man at Camerone against the Mexicans is emphatically recalled. Of course, the film fails to mention that at the time of Camerone, the US supported the Juaristas in their effort to drive the French army from their country...

Overall, this film can easily be given a miss unless you catch it on cable and have really nothing better to do.

A Yank in Indo-China
1952, black & white, ??mn
DIRECTOR : Wallace Grissell
SCENARIO : Samuel Newman
STARRING : John Archer, Douglas Dick, Harold Fong, Don C. Harvey, Hayward Soo Hoo, Rory Mallinson, Maura Murphy, Leonard Penn, Kam Tong, Pierre Watkin, Jean Willes
ALSO RELEASED AS : Hidden Secret

Some adventurous Yankee pilot and his partner who run a cargo airline in Indochina battles a bunch of Red Chinese to save two American women. Not sure whether this is a sequel to A Yank in the RAF and A Yank in Lybia...

Comments on this film welcome.

Non-Fiction
La mémoire et l'oubli
Documentary, 1991, black & white archival footage and contemporary colour, 90mn
Written and directed by Yves and Ada Rémy

This documentary, made for the France 3 TV channel, is actually in two nearly equal parts, the first half is an evocation of the war (with the narrative giving both the views of the French and Viet Minh) based on some relatively good archival footage from both sides while the second part covers the filming of Pierre Schoendoerffer's Diên Biên Phú and recollections of French veterans of the battle. Interviews of Vietnamese veterans would have greatly improved this rather average documentary. Best bought if remaindered (which is what I did).